Blog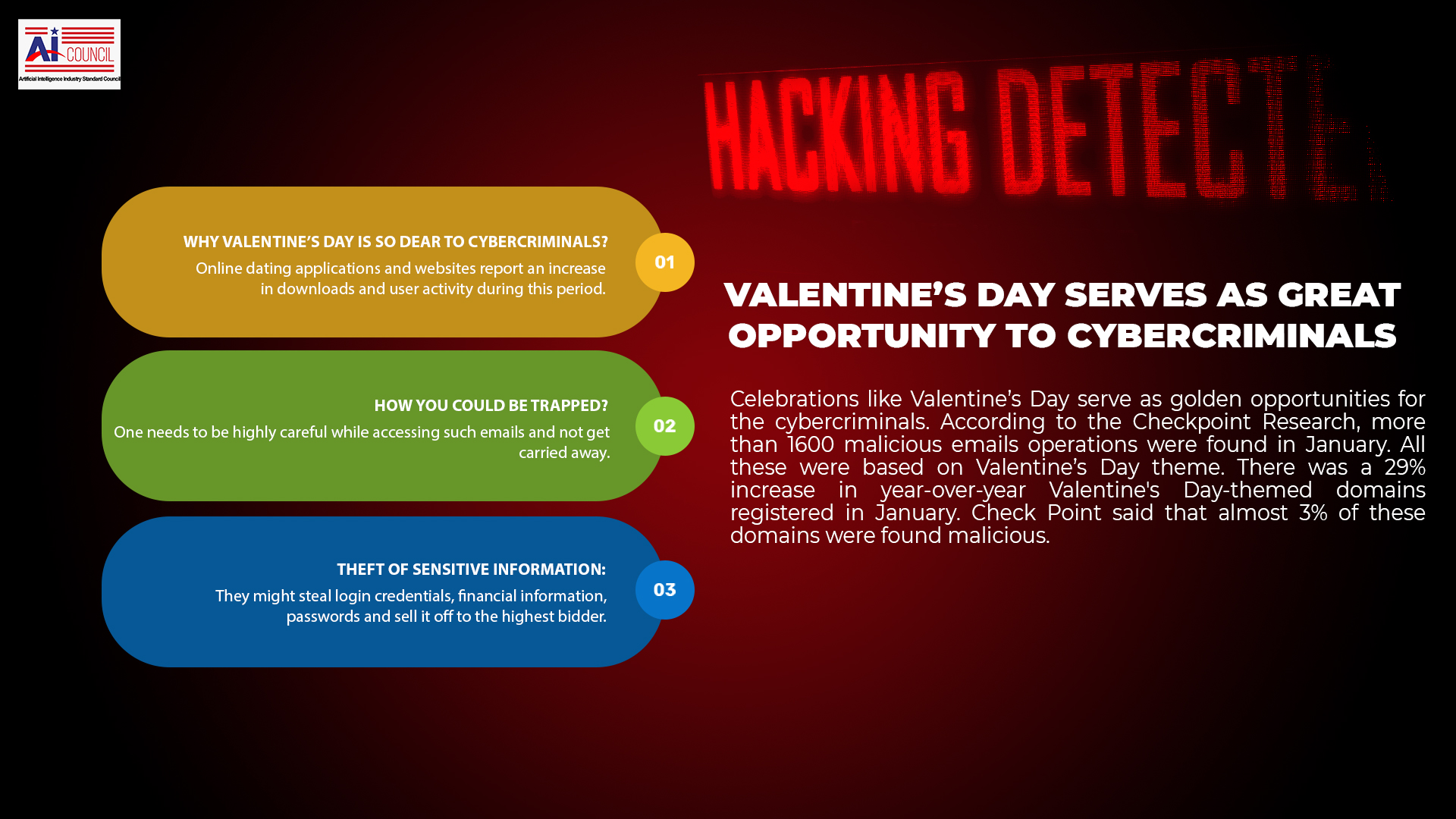 Valentine's Day serves as Great Opportunity to Cybercriminals
Celebrations like Valentine's Day serve as golden opportunities for cybercriminals. According to Checkpoint Research, more than 1600 malicious emails operations were found in January. All these were based on Valentine's Day theme. There was a 29% increase in year-on-year Valentine's Day-based domains registered in January. Check Point said that almost 3% of these domains were found malicious.
Report by Check Point Research
"We've been studying Valentine's Day shopping scams for a few years now. The jump between this year and last year has been the most substantial," said Ekram Ahmed, a Check Point spokesperson. "We suspect the primary driver behind the trend is a coronavirus."
"Right now shoppers are increasingly avoiding malls and brick and mortar stores and they are increasingly relying on online shopping. Hackers see behavior change as an opportunity. For example, researchers found an email pretending to be from Pandora that was similar to one they saw being used in Black Friday-related campaigns in November 2020," Ahmed said.
"The email's aim was, as usual, to entice the user into purchasing jewelry items by offering them at unreasonably cheap prices, on a fake Pandora webpage which tries to imitate the look and feel of the real site," Check Point said.
Why Valentine's Day is so dear to cybercriminals?
Cybercriminals get access to a plethora of information during the festive period. Online dating applications and websites report an increase in downloads and user activity during this period. Downloads of apps related to Valentine's Day have seen a hike. These include greeting cards, horoscope compatibility, themed wallpapers, and love-related gaming apps. This is indeed fun but one should not compromise with safety. Criminals take advantage of the personal and financial information shared on these apps and websites.
How you could be trapped?
Fraudulent Emails
Users may find an e-greeting or e-mail from a known name. But this is more often spam. The e-mail directs the user to click on a certain link to open the greeting. As soon as the link is clicked the malware gets downloaded and infects the entire system. The system can also become part of Botnet.
One needs to be highly careful while accessing such emails and not get carried away. Always check the source before opening the link.
Theft of Sensitive Information
Malicious applications can get access to sensitive information. When you download a malicious app it may ask for certain permissions. Pertaining to this they get access to data stored in your smartphone or any other digital device used for the purpose. They might steal login credentials, financial information, passwords and sell them off to the highest bidder. Be careful while giving access permissions to the app. Make sure that the application you download and use is trustworthy.
Special offers
Attackers send special offers that eventually turn out to be spam. They take advantage of online shopping platforms. Users come across huge sale offers related to Valentine's Day and get tempted. To avail of the offer quickly, they browse through these malicious websites and fall into trouble. Just opening these websites can infect your system with Trojans and Malwares. So be careful while accessing these websites. Purchase only from the authenticated source.
Your safety is in your hands. Be aware of an unrealistic discount giving websites, lookalike domains, suspicious password resetting windows, spelling mistakes, and spam e-mails.