Blog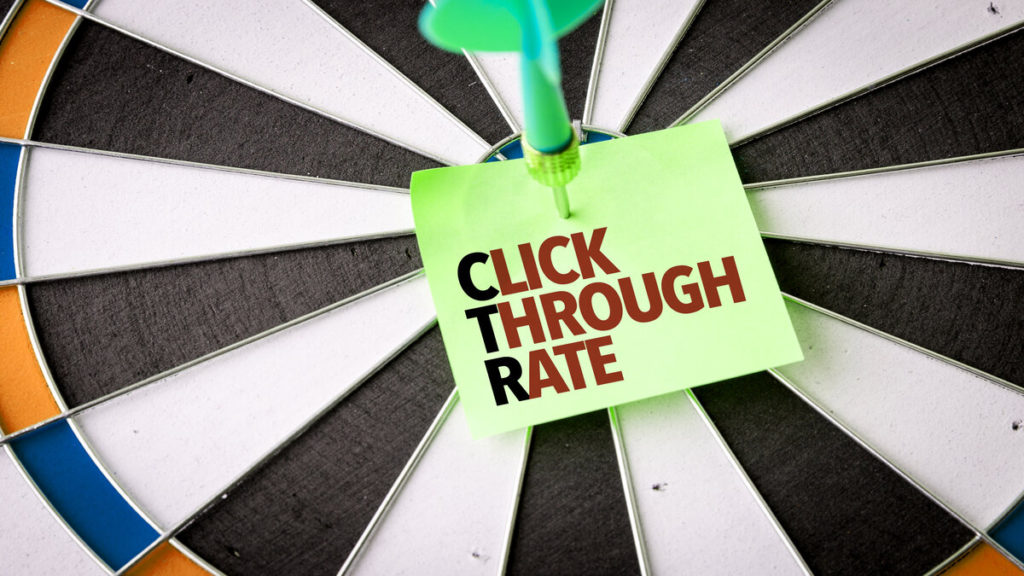 Understanding Click through Rates and Why They Must Increase?
Understanding click-through rates is important for those running an online business and have been caught up in the process of selling the product. Click-through rates help the owner of a site or a link understand the accessibility of the link and the acceptability of it. Say that a link that was shown on hundred screens was clicked on five times. These are the two significant factors of the click-through rate. The click-through rate for such a link is 5%. The most preferred click-through rates is way below five percent and it is not difficult to achieve. Let us guide you through it?
What is a good CTR?
Two percent is a good click-through rate. In our attempt at understanding click-through rates, we have to know that CTR varies across industries. Most Facebook ads get an average CTC of 0.02 percent. This CTR is actually good on a social media platform like Facebook where most people skip ads and links. The study looked at various PPC parameters the likes of which were conversion rates, CPA and CPC. It also included a short study about understanding click-through rates. The results show us the importance of understanding the measurements which are specific to the industry as the end results for a basic warranted click-through rate by industry are greatly different. For example, CTR for legal services is less than that on real estate and it is understandably so.
There are various other factors that help in regulating the click-through rate. These are mostly hidden and varies from company to company. The reason why click-through rates keep varying is the engagement of the company over social media as well.
Setting benchmarks can be a good requirement to set. Benchmarks are useful for determining if the campaign has a better click-through rate. They can assist one in seeing a baseline performance and compare it to the overall performance of competitors. However, they aren't without flaws and routine checks must be carried on.
How to improve Click through Rates?
1. Select the right target audience for your company
When it comes to operating a good campaign for your product, there is no point arguing that no factor has greater importance on the success of a company than audience targeting and getting it right. Audience targeting is still a substantial problem for most, if not all, PPC advertisers.
The fact of the matter is, no matter how great you try to make a copy, get creative, extend offers, curate messages that match client requirements, understand required headline, incorporate humor, or utilize other factors, a target audience that doesn't have anything to do with your product or service won't see your link. This will reduce click-through rates. If someone extends to you free bread for life, however, you have chosen to be gluten-free, you could not care less. Audience targeting is key in making the product sell more.
2. Customize your advertisements to attract more clicks
The basic click-through rate for an average ad displayed at any given point of time is very low. If it sits somewhere below 0.1%, then your click rate is significantly lower. Don't settle for the average number of view s at such low rates.
One trick to implement to understand click-through rates and their subsequent rise is to effectively size the duration of the advertisement.
Make sure that you are selecting the best ad sizes and setting the company up for big and long-lasting success. Several companies are testing every single ad size and doing research on such ad sizes. Derive knowledge from such research. Choose the right dimensions for the necessary advertisements and the duration should be optimum as well. The duration can range anywhere from fifteen to forty-five seconds.
Keep testing out what works for your company and what doesn't. Be completely sure that the strategy being used by your adverts does not get used by others in a way that it becomes an infringement on your intellectual property.
Good Click-Through Rate Conclusions
CTR is a highly controversial and debated metric to assess how far a product has impacted a target audience. Marketers utilize it to set benchmarks and make their performance better in search of success. To be honest, it is a flawed system and requires reviewing.
Almost anything can change a company or individual link's ctr. No two campaigns or companies are similar in goals, or audience. Every campaign has a different goal to achieve. So, starting points are separate just like the ending points. Every ad must be designed to ring in maximum click-through rates for a given industry.
With that being said, you will be able to implement and enforce some foolproof methodologies of increasing and understanding your CTR.