Blog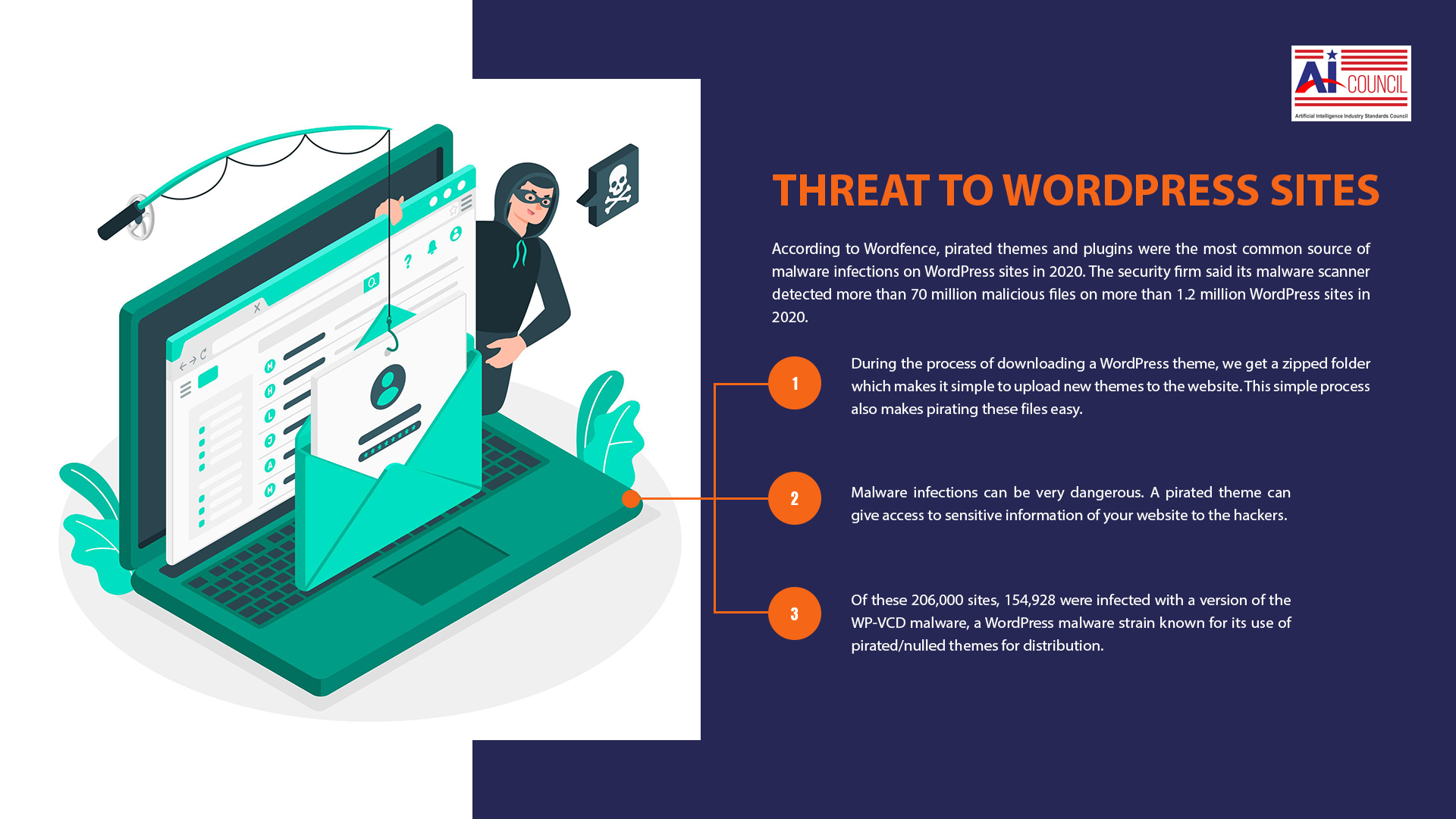 The Threat to WordPress Sites- Pirated themes and Plugins
According to Wordfence, pirated themes and plugins were the most common source of malware infections on WordPress sites in 2020. The security firm said its malware scanner detected more than 70 million malicious files on more than 1.2 million WordPress sites in 2020.
"Overall, the Wordfence scanner found malware originating from a nulled plugin or theme on 206,000 sites, accounting for over 17% of all infected sites," the company said on Wednesday.
Of these 206,000 sites, 154,928 were infected with a version of the WP-VCD malware, a WordPress malware strain known for its use of pirated/nulled themes for distribution.
Wordfence said this particular malware operation was so successful last year that it accounted for 13% of all infected sites in 2020.
Working of WordPress Theme Piracy
WordPress themes can also be pirated just like all other software. During the process of downloading a WordPress theme, we get a zipped folder of all the applications and files it needs to function efficiently. This process makes it simple to upload new themes to the website. This simple process also makes pirating these files easily.
The intention behind pirating the themes is quite obvious people get the premium ones for free. Still, there are reasons for people to stay away from pirated WordPress themes and plugins. It definitely means compromising one's morale and ethics, also there are a lot of practical disadvantages. It is not safe to use pirated WordPress themes and plugins.
Reasons for not using pirated WordPress themes and plugins:
   1. It might be infected with Malware
Malware infections can be very dangerous. A pirated theme can give access to sensitive information about your website to hackers. An infected site may not work efficiently. It might run slower because of all the additional files.
   2. Pirated Themes cannot be automatically updated
Pirated themes cannot be updated automatically, this happens because generally, the metadata that identifies them is removed.
   3. Pirated Themes might Impact SEO Negatively
When a pirated theme is installed, one might also be including external links to a disreputable source on the website. Of course, one can always delete any links that one didn't add themselves from the new theme's code. However, going through an entire theme's code is not a good idea and complete wastage of time. Also, the links can be really difficult to find.