Blog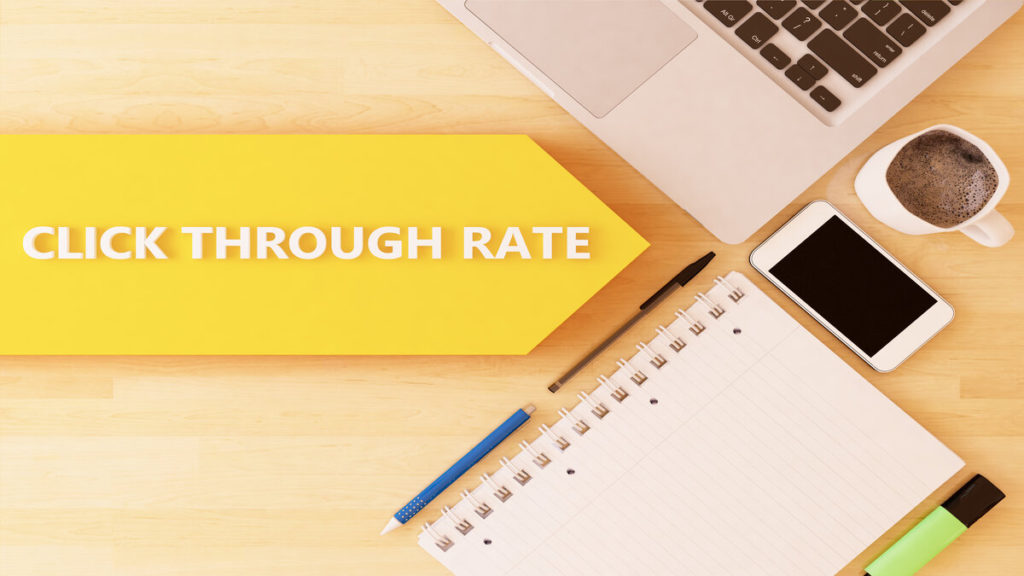 Know about Google click through rate and skyrocket your Ad Rank!
What is Click-Through Rate?
Google Ads have become the rule of the game in advertising and marketing. Expectedly, there must be a simple quantifiable value to measure the success of any advertisement on digital media, and the click-through rate is exactly that. The click-through rate is a ratio between the number of views an ad receives and the number of impressions or number of times the Ad is shown. It is simply the percentage of the total Ad views that turn into clicks. Google click-through rate is, thus, a vital aspect of Google's Quality Score formula. A good Google click-through rate depends on the type of industry or business, and also the target audience, goals, motives, and many other reasons. To start off, however, it is advisable to set targets for average click-through rate AdWords or average click-through rate for display ads with the help of benchmarking tools to compare your current click-through rate with the industry average click-through rate.
Google's Quality Score
Google uses a handy and standardized Quality Score. This score helps to ascertain both the actual cost per click and your ad position or rank. In most of the PPC platforms, especially in Google Ads, known formally as Google AdWords, click-through rate is used to finalize your ad ranking and also the cost per click. So it is ideal to have a higher Google click-through rate in Google Ads. This ensures a better ranking and also lower costs.
Industry Average Click through Rate       
To achieve a respectable average click-through rate AdWords or average click-through rate for display ads, takes time, patience, and effort. A helping guideline at the start along with basic ideas of keywords and Ads generic to the domain is crucial. Several trusted resources have finalized an average click-through rate AdWords of 1.91% on the search network and an average click-through rate for display ads of 0.35% on the display network. The colorful graph below aptly represents the variation in the average click-through rate for the case of 20 different industries:
Average CTR in AdWords
Of course, everyone must desire an average Google click-through rate that is higher than the industry average click-through rate. A higher click-through rate average also ensures better conversion rates. Now you can set your own goals and benchmarks and move ahead. Suppose you aim to get a 4% click-through rate for a real estate business. You set up your Google Ads and pages by building content on the keywords you chose and bid for. You can first check on the Google Ads Account for the status of your Ad posting, that is, where the click-through rate stands. You can consider the smart and free Google Ads Performance Grader that can measure your Google click-through rate. It can also compare your click-through rate average to that of your competitors. This way you keep track of your Ads and the responses and stay motivated as well to beat your competitors and do better each time.
What is a Good Click-Through Rate for AdWords?   
The text of your promotional material is important to reach the Google Click-through Rate goal. Whether the advertisement is emotional and catchy, or not? Is the value prop stated clearly? Are important keywords present? The service or the product which you are promoting has to be appealing and easily understandable otherwise the customers will not click on it. The ad extensions are helpful in this. This increases the size of your advertisement and also augments the click-through rates. You must not forget that it is very much possible to have a high click-through rate. If the conversion rate is not high and the click-through rate is strong, then in all probability you are not going to reach the return goal on the investment of the ad. You will be then paying for only the clicks that will not turn into real customers. It is important to make offers that are attractive for the customers and that the landing pages are compatible with every device. You should monitor the CTR and the conversions which follow any changes to the advertisement. If your income is higher than the investment, you might think of opting for a higher CTR. This can be achieved by improvising the ad text, opting for better keywords, and also including negative keywords in your Google Ad campaigns. These changes and developments usually help in increasing your number of qualified impressions, CTRs, and conversions.
Email
The success of your ad campaign is evaluated by the click-through rate in email marketing. It also assesses whether your copy, subject line, design, etc. are effective in attracting the audience or not. 57% of email marketers increased their budget for email marketing in 2020 and continued to assure the greatest on average return for ad expenses. It is so interesting because almost 80% of 196 million emails remain unopened each day. To effectively place CTR in email campaign evaluation, the following are important to discuss:
● Definition of click-through rate email
● Comparing the effectiveness of CTR and other metrics of email marketing
● Presenting benchmarks for click-through rate email and solutions to deal with low-click CTRs.
The percentage of people who clicked on a minimum of one link of your email is click-through rate. The click-through rate calculation is simple – just divide the number of the total number of clicks by the number of emails delivered and multiply that ratio by 100 to get the result which is your click-through rate email percentage. Make sure to not overcount the number of clicks. A maximum number of formulae will tell you that the number of clicks your email gets is CTR, but what is meant by it is the number of people who clicked a minimum of one link in your email. Hence, if John clicks more than one link in your email, John is counted as 1 and not 2.
To conclude, let us revisit and lost out some key determining features that govern the value of a good Google Click through Rate:
● Quite interestingly, the average click-through rate AdWords almost always tends to be higher than the average click-through rate for display ads. Display ads are now focused on the brand value and promotion and not much on the content or intent of the listings.
● Ads centered on "softer" and simple conversions, for instance, a free quote, or a low ticket item, often produce higher click-through rates than for the ads for high ticket items like software enterprise.
● The Ads that attract the highest Click-through rate are the ones tied directly to brand keywords and listings. They add greatly to the Google Quality Score.
● Email-based marketing may not be very popular, however, it is still very important especially in heavy works, lengthy and bulky. Nevertheless, most of the results are based on prior trials and errors.
● It is important to:
○ Run several tests,
○ Try samples,
○ Conduct Data analysis, and,
○ Keep track of your metrics and value judgments.
Employ all the above ideas and narratives into your own efforts of maximizing your Ad posting potentials. Grow your network and business and always be mindful of your click-through rate's performance.