Blog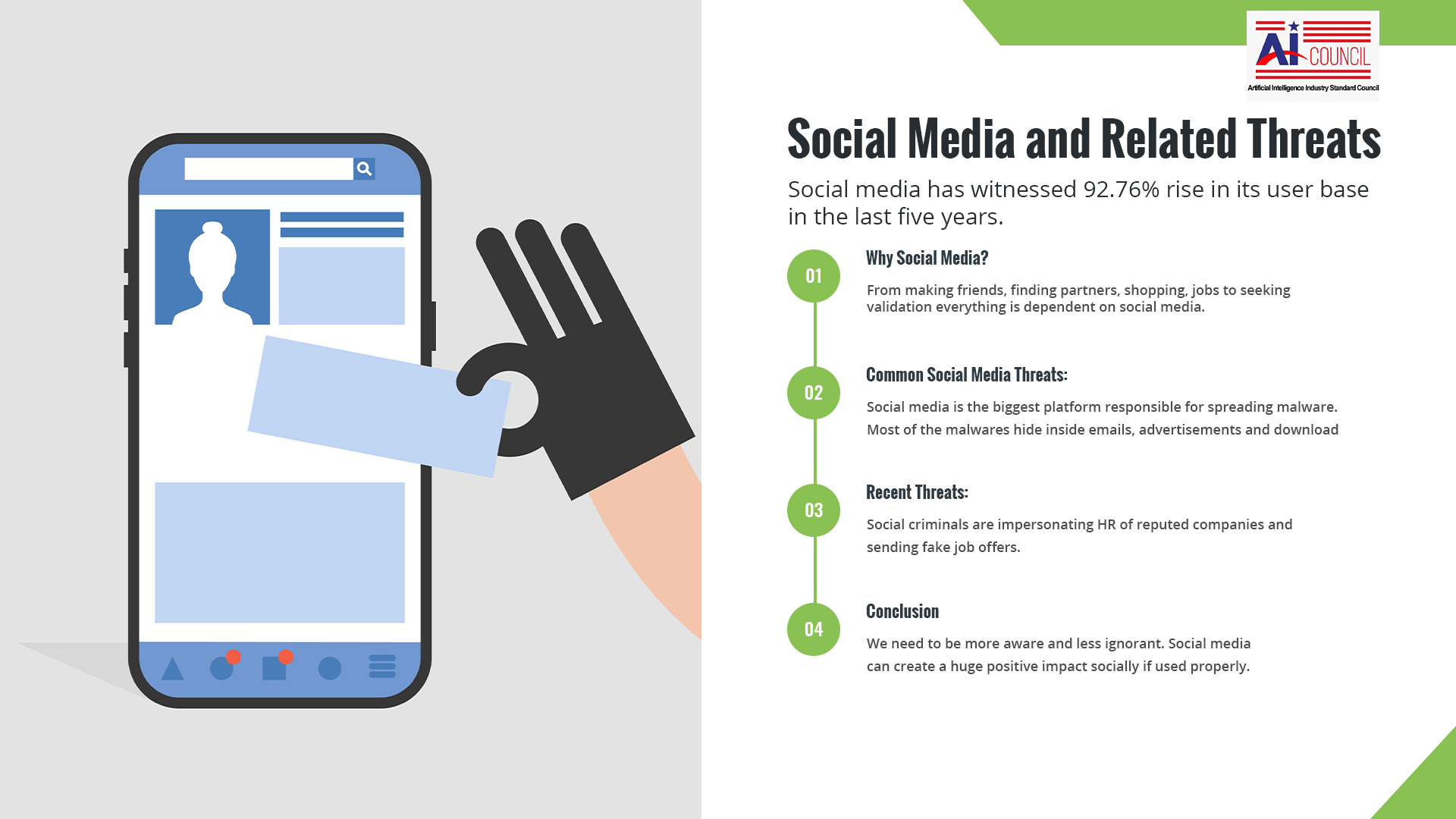 Impact of Social Media Threats in Today's World- How Safe is Social Media Platform?
Social media has witnessed a rise of about 92.76% in its userbase in the last five years. The year 2019 saw 3.48 billion users and 2020 3.96 billion users. This marks an increase of 10.9%. Social media has become an integral part of our lives.
Why social media?
From making friends, finding partners, shopping, jobs to seeking validation everything is dependent on social media. Its intelligent algorithm casts a spell on the user. Due to the increasing popularity, these platforms are becoming more vulnerable to cyber-attacks.
Social media is very easy to use and handle. People of any age can use it easily. It has become a powerful tool for promoting businesses and startups, communicating and sharing ideas. There are platforms with a large user base and thus a humungous amount of data. These sites include Instagram, LinkedIn, Twitter, and Facebook. Cybercriminals are easily able to attack and breach the user's privacy by stealing login credentials.
Common social media threats
Social media can have the following negative impacts if not handled well.
1. Letting out too much private information
Research suggests that more than 40%of all cyber-attacks are targeted at small businesses. These businesses use social media for recognition and appreciation. One must be aware and not let out personal information of their customer which can be exploited.
 2. Dissatisfied Employees
98%of employees use social media platforms. Of these 98, 50% share information about their jobs and companies. More often there are chances of them sharing sensitive information unknowingly by posting workplace pictures. This can cause harm to businesses.
 3. Malware
Social media is the biggest platform responsible for spreading malware. Most of the malware hides inside emails, advertisements, and download links. The user when accesses any of these, ends up infecting their system.
4. Unused Social Media Accounts
Business accounts, which remain inactive for long times are used by cybercriminals. They use these accounts to damage the brand's reputation and steal vulnerable data. They may commit fraud and post inappropriate messages likely to harm the business.
Recent Threats
Recent social media attacks involved some malicious intent. Some were-
North Korean threat actor was found to form fake Twitter accounts and profiles. He created blogs on existing threats to build a fake personality as a security researcher. He used fake profiles to contact security researchers via Telegram, Twitter, and Linked.
Social criminals are impersonating HR of reputed companies and sending fake job offers. This is done with intention of getting the financial credentials of job seekers.
Stop using social media is not the best idea. We need to be more aware and less ignorant. Social media can create a huge positive impact socially if used properly. We need to take responsibility for our cybersecurity.