Blog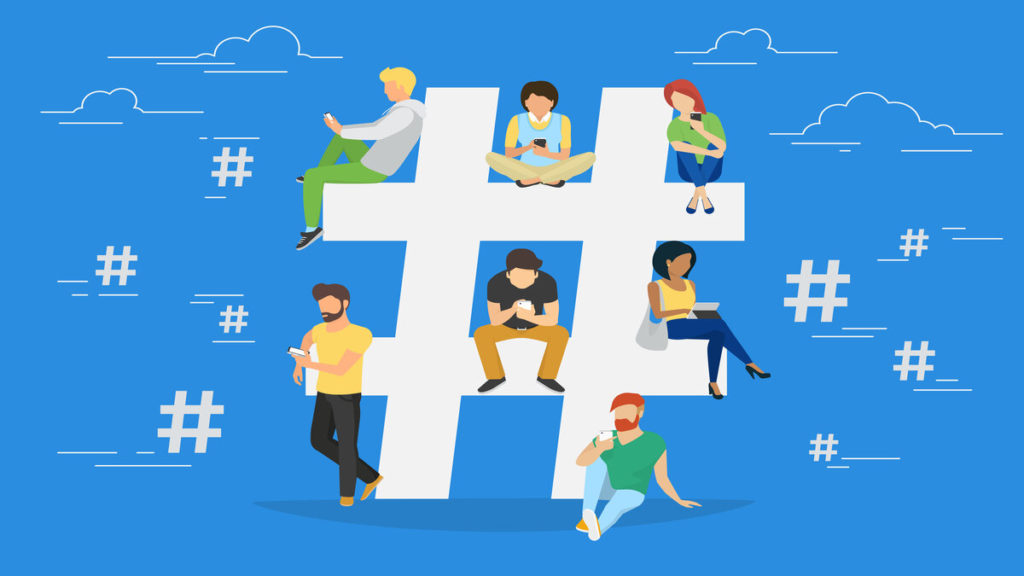 Hashtags – A Bird's Eye View
The use of hashtags in social media has been around for a long time now. In the area of social media marketing, using hashtags plays an instrumental role when you work out your content strategy.
Although not elaborate conversations yet these little links are effective in helping your target audience find out your links and relevant content. Hashtags help in grouping conversations together.
How to use hashtags
The first hashtag that was used was in 2007 on August 23rd. It was used by Chris Messina, a Twitter user. He used the pound symbol that you see on your keyboard. It is known as an octothorpe. He suggested that the company start using the pound symbol so that like tweets could be grouped.
However, using the pound symbol for marking conversations is not just applicable for Twitter, the microblogging site only but you will see them on other social media platforms too.
Let us find out how to use hashtags and how do hashtags work best. 
We will catch a glimpse of how you must use it for the most popular social media platforms, starting with Twitter.
Hashtags on Twitter
Follow these tips when you use hashtags for this microblogging site-
Limit the octothorpe- If your tweets have 1 or 2 of the pound symbol, it will see approximately, 21% more in engagement. Try not to be overboard. Stay balanced.
Retweets improve with hashtags- If there are tweets that ask followers to retweet (do not just use the initials RT), you get better engagement.
Use hashtags for advertisements with care-Studies reveal that you get more clicks if you do not use these symbols in your ads.
Research for the trending hashtags so that result is optimum- Twitonomy is an analytics tool that will help you to find statistics for trending hashtags. 
 LinkedIn hashtags
You can use the LinkedIn hashtags just as you would use them in any other social media platform. Most importantly, this professional social media platform makes use of these pound symbols to monitor and identify what is important to the visitor.
Follow these tips for LinkedIn when it comes to using the symbols-
 Hashtags enhance visibility- Adding the hashtag to your profile helps in improving the visibility of your profile.
Include hashtags in long posts-If you intend to write a long post on LinkedIn, make sure that you add the best hashtags that are relevant. This helps in the categorization of your content.
Hashtag limits- Just because these symbols are returning to the platform, there is no strict rule as to the number of these symbols that you can use. However, you can still apply the 1 or 2 rule.
 Hashtags on Facebook
Check out these tips that you can use for this social media platform-
Avoid using too many of it If you are using too many hashtags, it might be annoying for the visitors. Ideally, you can use 1 or 2 hashtags for every post so that there is optimum engagement from the reader's side. Research says that using more than this number may not keep your audience glued to your posts.
Facebook post must be public-Aside from making your Facebook post public also make sure that you allow them to follow you. Making it public allows the post to be viewed not just by your friends and family but also by others.
Hashtags on Instagram
As you have seen the optimum usage of the hashtag is limited to around 1 or 2 in the posts for Facebook, Twitter, or LinkedIn, but this is not the case in Instagram. Check out these tips that you can follow on this platform-
Use hashtags on Instagram always- Studies reveal that using these symbols will earn you more than 12.6% engagement. So, use the relevant best hashtags. 
Use more of these symbols on Insta- Statistics reveal that if you use as many as 11 hashtags, it generates the "highest level of engagement" if you take it on an average.
Do not use more than 30-pound symbols on Instagram- It is not necessary that you have to use all of them. But you can at least add more of it but not more than 30.
Why use hashtags?
There are several reasons why you must use these symbols. The most prominent ones are as follows-
How to find the best hashtags?
You can find the best hashtags by monitoring the various social media competitors and influencers. Using competitive analysis, you can find out relevant hashtags for your niche.
By finding the trending hashtags, you get to know which are the ones that are in vogue and most popular.
You can also use Hootsuite, which is a "social media listening tool". This will allow you to know the best hashtags across all social media platforms.
It is not just the main hashtags that you must focus on. Once you are confident about the ones that are drawing traffic for you, the next thing is to locate those words that are related and relevant.
Identify those hashtags that worked best for you in your past posts.
Last but not the least, you have to carry out your part of homework to find out more about trending hashtags and how you can incorporate relevant ones in the list of best-performing names.