Blog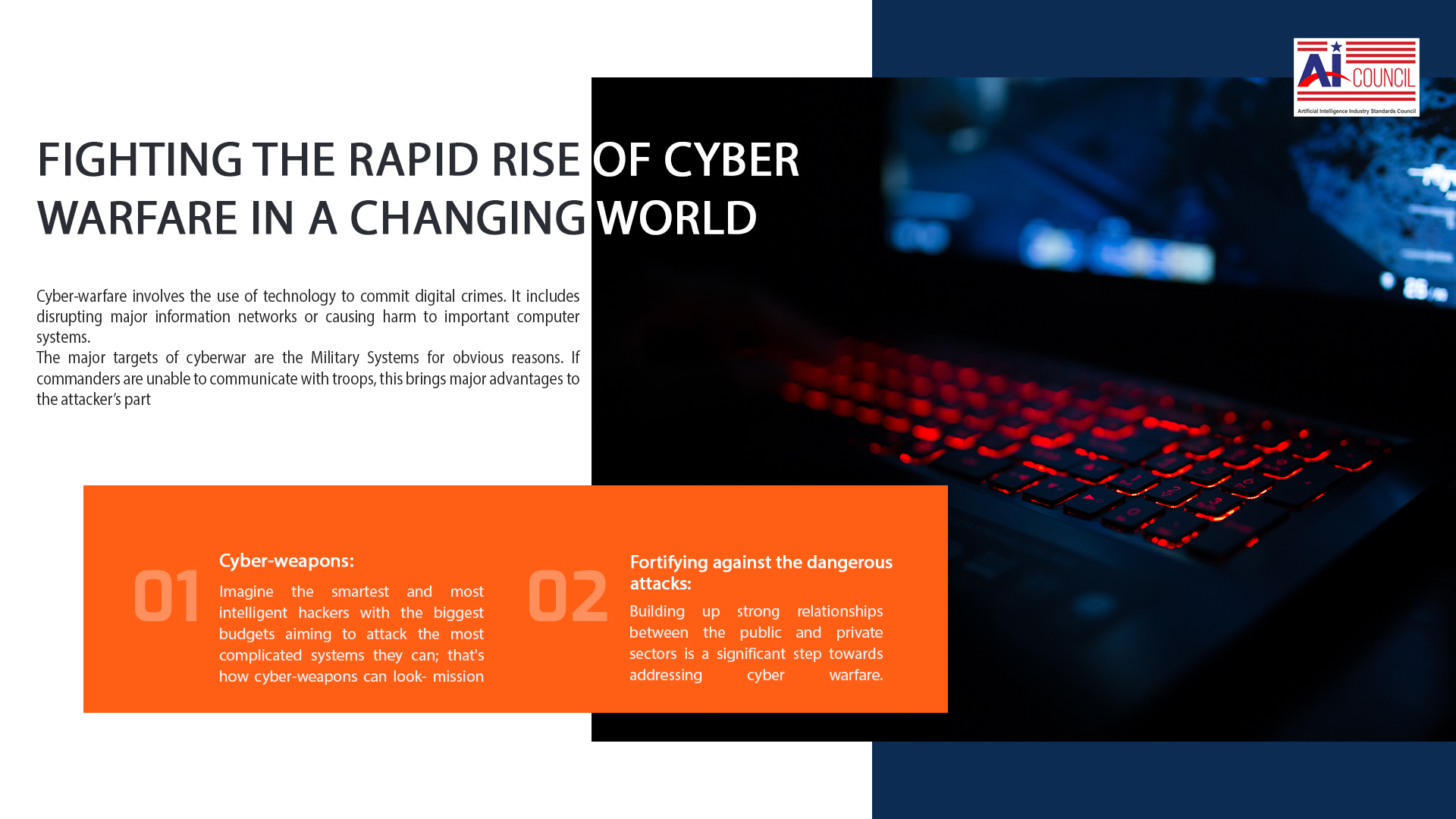 Fighting the Rapid Rise of Cyber Warfare in a Changing World
Cyber Warfare
Cyber-warfare involves the use of technology to commit digital crimes. It includes disrupting major information networks or causing harm to important computer systems. It also includes the threat of viruses. In the future, we might see hackers making use of computer coding to harm other nation's peace. This might be done with intentions of stealing the private data of the nation, tracking the health records to harm the patients, or getting major insights on the defense system and other vulnerable content. The major targets of cyberwar are the Military Systems for obvious reasons. If commanders are unable to communicate with troops, this brings major advantages to the attacker's part. There are innumerable reasons for the states, nations, and other international organizations to get themselves engaged in cyber warfare with an intention of causing economic and physical destruction.
Modern society is wholly dependent on computer systems and databases for every field ranging from health, finance, education to transport networks. So it becomes all the more important for both private and public sectors to address these dangers and invest in cyber-defense capabilities. 
Cyber-weapons
Imagine the smartest and most intelligent hackers with the biggest budgets aiming to attack the most complicated systems they can; that's how cyber-weapons can look- a mission involving groups of developers with lots of money. In general, these tools used for cyber-warfare vary from the most complicated to utterly basic depending upon the impact attacker is trying to have. Many are part of the standard hacker toolkit, and a series of different tools could be used in concert as part of a cyber-attack. For example, the Distributed Denial of Service (DDoS) attack was the major attack on Estonia in 2007. Other techniques that are likely to be used include phishing emails to get access to vulnerable data such as passwords.
Fortifying against the dangerous attacks
Building up strong relationships between the public and private sectors is a significant step towards addressing cyber warfare. We need the right framework to address these issues related to security or else the companies, businesses, and agencies will continue to be in danger. Here are some steps that can be taken-
It is significant to have security in mind right from the start while developing the application. 
Making use of the best methods for application security found in OWASP (Open Web Application Security Project) and its list of impactful web application security risks, including tips for logging and monitoring solutions to reduce response time.
Improving network security against wardriving and other network attacks by educating the employees on the risks of using public Wi-Fi, requiring a virtual private network (VPN) for sensitive resources, and strengthening network authentication.
The hiring of the best professionals is very significant. Cyber-security is a multidimensional practice, and framing an effective framework requires lots of patience and effort. It also requires advanced knowledge in all the fields, including networking and application development.
Even after following every protocol, a breach of privacy can occur leading to a crisis. So a crisis plan is very essential concerning cyber-security. As the reports suggest in 2016 the average time taken by the organizations to recognize a breach was 191 days approximately and around 70 days to contain the breach. The response team for crisis planning should significantly include, legal professionals, forensic analysts, and the public relations department for building an effective plan.