Blog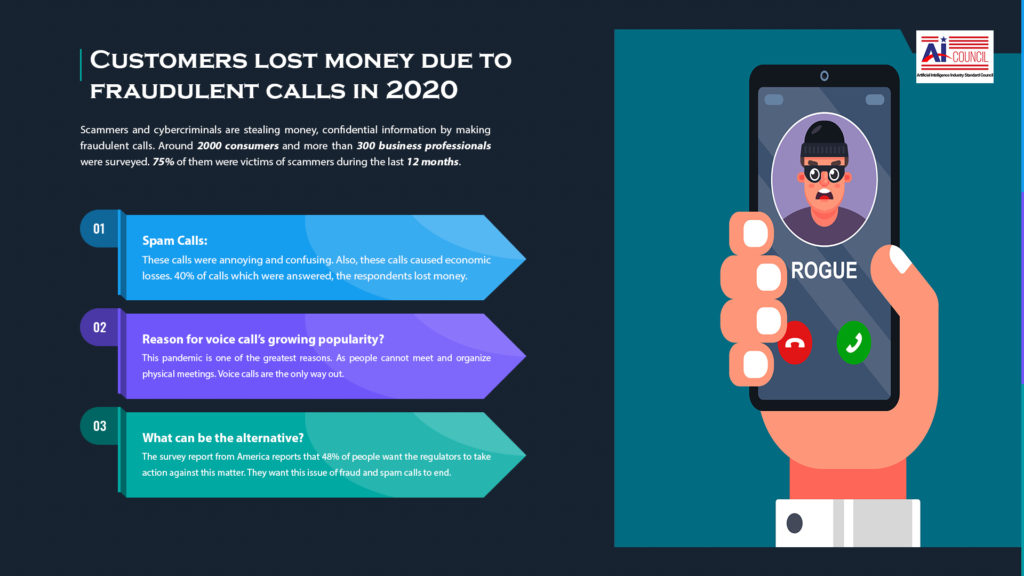 Customers lost money due to fraudulent calls in 2020
Since the time pandemic has hit, there is increased reliability on phone and voice calls. Hiya report states that during the last year voice traffic went up by 184% compared to 2019. An increase in the use of voice calls has given cybercriminals another domain for the attack.
Spam Calls:
Scammers and cybercriminals are stealing money, confidential information by making fraudulent calls. Around 2000 consumers and more than 300 business professionals were surveyed. 75% of them were victims of scammers during the last 12 months. 50 billion fraudulent calls to Americans, 157 billion to North Americans and Europe – of these 58% of calls were fraudulent.
These calls were annoying and confusing. Also, these calls caused economic losses. 40% of calls that were answered, the respondents lost
money. Approximately $182 per person was lost in 2020. More than 7% report losing around $500 to spam calls during the last 12 months.
Reason for voice call's growing popularity
This pandemic is one of the greatest reasons. As people cannot meet and organize physical meetings. Voice calls are the only way out. Also, the survey indicates people are finding it convenient. Business's reputation is at stake due to these fraudulent calls. As business organizations are completely dependent on calls to build a relationship with their customer, address their problems and complaints.
The consumer survey clearly showed the preference for voice calls over any other means of communication. Both for professional and personal interactions, beating text, email, video calls, and instant messaging.
Survey result indicates important business calls are missed regularly by 44% Americans. The main reason behind this is that the calls remain
unidentified. 94% of anonymous calls remained unanswered the previous year. 85%of people were of opinion that they leave the anonymous calls unanswered fearing fraud.
This is hampering the businesses. They are unable to connect to the consumers. Around 50% of business professionals complain that their
business is impacted negatively. The sales sector is the worst affected.
What can be the alternative?
The survey report from America reports that 48% of people want the regulators to take action against this matter. They want this issue of fraud and spam calls to end. Around 42% of them suggest wireless carriers can be life-saving. Whereas, 37% of users urge businesses to address this problem. These businesses are the ones that have been exploited by scammers the most.
Hiya CEO Alex Algard said: "The unprecedented events of the past 12 months mean the voice call has become an even more essential
connection point for both businesses and the general public. Businesses are using the voice call more than ever to reach customers and people are picking up the phone to connect with friends, family, and colleagues."
He further said: "At the same time, this crucial communication channel is being hijacked by hackers and scammers, exploiting our need to feel connected and informed. Everyone is negatively impacted by this surge of scam calls and it is time for wireless carriers, regulators, and businesses to tackle this issue before it escalates further."