Blog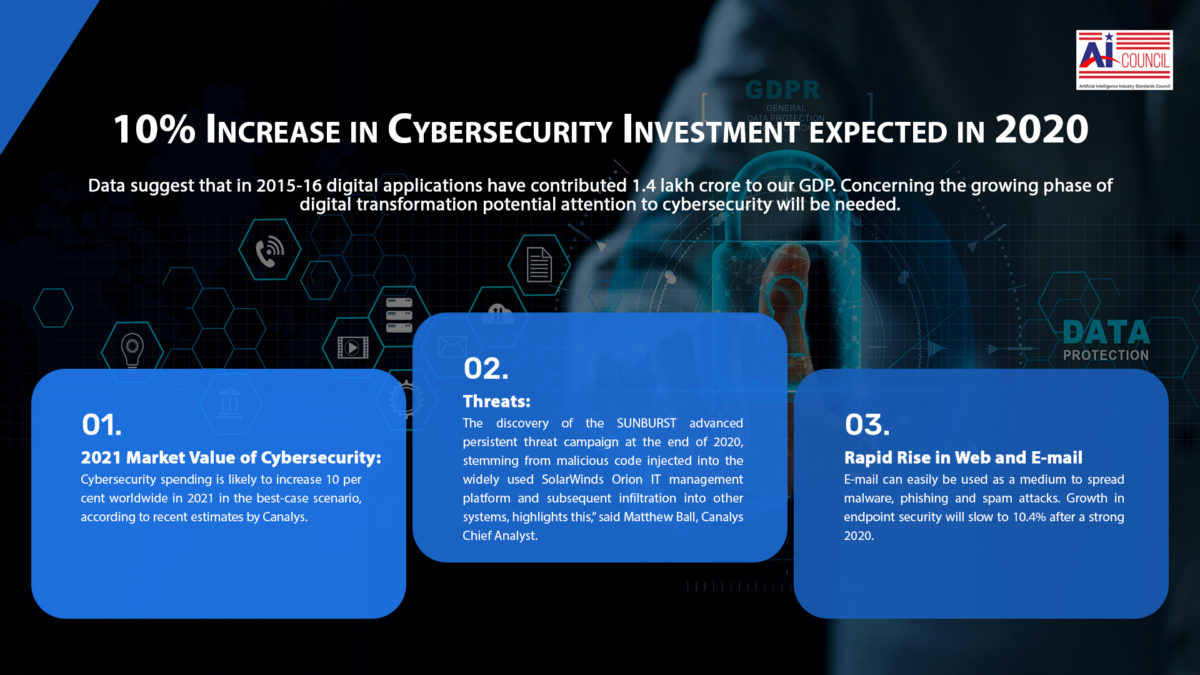 10% Increase in Cybersecurity Investment expected in 2020
The wave of digital transformation has taken over all businesses, companies, and organizations. Incorporating artificial intelligence into service organizations is an integral illustration of the potential of digital transformation. Data suggest that in 2015-16 digital applications have contributed 1.4 lakh crore to our GDP. Concerning the growing phase of digital transformation potential attention to cybersecurity will be needed.
2021 Market Value of Cybersecurity
Cybersecurity spending is likely to increase 10 percent worldwide in 2021 in the best-case scenario, according to recent estimates by Canalys. The report suggests that the overall market value of cybersecurity is expected to reach $60.2 billion in 2021. This includes shipping of network security, web and email security, endpoint security, data security, security analytics, and identity access management. "Cybersecurity will remain a high priority this year, as the range of threats broadens and new vulnerabilities emerge, while the frequency of attacks is unlikely to subside," Canalys said as per an official press release. "The first half of the year will be affected by ongoing lockdown restrictions and furloughs in response to the pandemic. Covid-19 vaccine approvals and the start of mass vaccination programs have set a time-frame for reopening economies and sustained global recovery from mid-year," it said.
Threats
The healthcare and education sectors are the most vulnerable as most of the fraud and attacks are directed towards them. The National \ Health Care Anti-Fraud Association (NHCAA) estimates that the financial losses due to health care fraud are in the tens of billions of dollars each year.
The biggest threats are always those not yet known. The discovery of the SUNBURST advanced persistent threat campaign at the end of 2020, stemming from malicious code injected into the widely used SolarWinds Orion IT management platform and subsequent infiltration into other systems, highlights this," said Matthew Ball,  Canalys  Chief Analyst. The response of cybersecurity professionals to these threats and the latest issues will determine the growth of cybersecurity this year. There is a need for businesses and organizations to adopt a multi-dimensional approach towards it. This holistic approach must include protection of data and backup, awareness and training of employees, better detection techniques, and adopting RTO and RPO.
Rapid Rise in Web and E-mail Security
E-mail can easily be used as a medium to spread malware, phishing, and spam attacks. Email security uses techniques and procedures for safeguarding accounts, their content, communication against unauthorized access, loss, or compromise. Growth in endpoint security will slow to 10.4% after a strong 2020. It will remain a vital part of cybersecurity stacks, as many office-based workers remain working remotely. Identity access management, a key part of zero trust policies, underpinning secure access to data and applications, will grow 10.4%. "Network security will be the largest segment, increasing 8 percent, driven by the restart of delayed upgrade projects," the report said.
Data security is expected to grow 6.6 percent, focusing on protection, backup, and recovery as well as consistent policies across multi-cloud and hybrid-IT environments, it said.